By Jakob — Published March 11, 2020 Leave a Comment
Betsoft is very experienced online casino game provider founded in 2006. In 2014 the company acquired Class 4 license with Malta Gaming Authority (MGA). Since then there has been a lot of development and in 2016 the company shifted the slot games from old Flash technology to modern HTML5.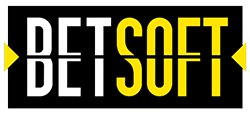 Betsoft slots user rating:

Betsoft Slot Game Features
Here are some features of Betsoft slot games.
Huge variety of slot games varying from comic style slots to more realistic style slots and to many fruit slots.
Some innovative game mechanics like in Take the Bank slot (read more below).
Many older Betsoft slots run on obsolete Flash technology which is resource heavy and has security issues. Also Flash games needs a browser extension to be downloaded and Flash games don't work on mobile devices (at least without a special browser).
New Betsoft Slots
Here are some of the newest Betsoft slot games.
1. Total Overdrive
Total Overdrive is a brand new 80's themed slot game established in February 2020. The music, sounds and atmosphere is very futuristic, kind of what the people living in the 1980's would think about the future to be.
Basically this slot is a 3-reel classic fruit slot with special Multiplier features.
Wild symbol substitutes all other symbols. Also 3x Wild symbols on the same betting line counts as 50x win.
Overdrive Multiplier is a feature where every winning spin will increase the Multiplier. The Multiplier keeps increasing with consecutive winning spins.
Every winning spin has a chance to award a Sticky Multiplier. The multiplier will be Sticky for 8 spins (indicated by a hold meter) even if there are spins with no wins, granting more chances for the Multiplier to go up.
I tried to find the find the Hold Meter, but I couldn't find it anywhere on the slot. Even though I had a Sticky Multiplier at some point.
However the Sticky Multiplier can re-trigger while the hold is active, refilling the hold meter to full, pushing the wins into Total Overdrive as the slot info screen states. This feature I couldn't unlock in my tests.
Total Overdrive is a slick slot game with cool 80s futuristic feeling. For my personal taste the bonus features were a little too simple. There is no Free Spins Bonus Game as in many other slots.
The RTP (Return to Player) however is quite good with 96.92 %.
Game released: February 2020
RTP (Return to player): 96.92 %
Variance: Unknown
Layout: 3 x 3
Betting lines / combinations: 5
2. Wolf Moon Rising
Nice, more wolves! Wolf Moon Rising is a wolf & wilderness themed slot game with exciting thriller or adventure movie typed soundtrack. For some reason almost all game providers have some kind of a Wolf slot game in their selection. But I don't mind at all. Let's take a look on this Betsoft's newcomer.
Each Wolf Moon symbol awards an Instant Win: Each Wolf Moon symbol pays the amount your bet is.
The Elemental Wild symbol substitutes all symbols except Feather Talisman and Wolf Moons. The Wild symbol is also the best paying symbol with huge win multiplier if you hit 5 x of those. The multiplier is 10,000x bet in that case!
If you hit 3 or more Feather Talisman symbols (Bonus), you will be awarded 12 free spins. In the free spins, all wins are doubled.
In overall Wolf Moon Rising was pretty good slot game with cool purple-blue theme. The bonus game is also cool with double winnings on each spin. Wolf Moon Rising is worth testing out if you like these kinds of wilderness themed slots.
Game released: August 2019
RTP (Return to player): 96.53 %
Variance: Unknown
Layout: 5 x 3
Betting lines / combinations: 25
3. Take the Bank
Take the Bank is a new bank rob themed slot founded in October 2019. The slot has a special feature. The game is played in rounds of 10. Each time you spin, a Master Bomb Counter counts down from 10 to 0.
Each Robber symbol will convert into Bombs which stay in position. After 10 spins the Bombs turn to Wild symbols.
Wild symbols substitute for all symbols except Police Cars and Robbers. If you hit 5 x Wild symbols on a pay line, it will act as 5 x Diamond payout (Diamond is the highest paying symbol).
When 3 Police cars land on the reels, a Bonus Game of 15 Free Spins is awarded. The Master Countdown will be paused during the free spins. In the free spins, there will be 5, 7 or an Epic 10 Wild symbols scattered anywhere on the reels. Each spin the Wilds move to a new location.
You can also buy features in Take the Bank slot game. You can buy a bonus game of 15 free spins with 5, 7 or 10 Wild symbols.
In conclusion Take the Bank was pretty interesting and innovative slot game. The counter and the bonus game especially nails it. However you must be extra careful of your money, as the 10 spin increments can be addictive to go "one more round" again.
The RTP (Return to player) is on average/low level with 96.08 %. Also the volatilty is on Medium level, which means more smaller wins more often.
Game released: October 2019
RTP (Return to player): 96.08 %
Variance: Medium
Layout: 5 x 3
Betting lines: 75
Most Popular Betsoft Slots
Here are some of the most popular Betsoft slots introduced.
1. Greedy Goblins
Greedy Goblins slot game is quite old Betsoft slot game founded in October 2013. On that time this slot was probably totally hi-tech, but now in 2020 it looks a bit oldish. Also the slot runs on obsolete Flash technology, which was invented in the stone age. Flash has a lot of security issues and other problems, so I actually cannot recommend this slot now.
But I anyway took a look to the slot if you want so see how this old classic looks like. You can really notice the Flash background as the slot has a lot of lag in the controls and the animations are jerking a little.
You can win the Jackpot on 5 x Elf symbols on maximum bet level.
When 2 or more Gold Coin symbols occur on anywhere on the reels, the Goblins will rush out to collect it. Each collected coin will cause new symbols to cascade in from above. Any new combinations that occur as a result of the coin collection will form new payouts.
When the Wild symbol (the Goblin house) occur on the reels, a random number up to 3 respins will be awarded. If you get 2 Wilds, you get up to 6 respins. The reel of this symbol will change to a Wild reel for the time of the respins.
If you hit 3 or more Elfania signs on anywhere on the reels, the Free Spins mode will begin. During the free spins, certain icons will have up to 10x multipliers. Jackpot cannot be multiplied.
There are even more features in Greedy Goblins slot. If you get 2 x Book of Secrets symbols, a Bonus Round is triggered. You can control the Goblins as they rob their enemies in the Elfanian nation. You can hit awards until the Collect price symbol is revealed.
To be honest, this slot didn't impress me. It's old and slow and I really didn't like the theme either. But that is just my opinion or course!
Game released: October 2013
RTP (Return to player): 97.2 %
Variance: High
Layout: 5 x 3
Betting lines: 30
1. Fruit Zen
Fruit Zen is a very delicious fruit slot game founded in 2014. Like the name suggests, the feeling is also very zen-like with calm atmospheric music in the background.
Fruit Zen features are very minimal. The Fruit Zen Wild symbol will expand to the whole reel. These symbols can occur on reels 2, 3 or 4. When triggered, a respin will also happen.
That's it pretty much, there is no Scatter symbols or bonus games available in Fruit Zen.
For me, Fruit Zen slot game is maybe too simple and boring. I would want some action and maybe more interesing features like a bonus game or something. But go and see yourself if you like this zen-like calmness of Fruit Zen!
Game released: June 2014
RTP (Return to player): 95.96 %
Variance: Medium
Layout: 5 x 3
Betting lines: 10
Recommended Bitcoin Casinos with Betsoft Slots
These Bitcoin casinos are offering Betsoft slots in their selection.



User Reviews
Here is the user rating summary of Betsoft slot games:
How do you like Betsoft slot games? Please share your thoughts below in the comment form!
Final thoughts
This was our article about Betsoft slots. Feel free to send mail, write a message via the contact form or write your comments or suggestions here!
Thank you for reading!
Sources for this article:
Slotcatalog.com for some slot data