To fully understand the Bitcoin Casino Kings Badge of Approval and what it means when you see our logo on a casino's website, let's play out a little scenario:
You're searching around the web for a new online casino to play with and you're struggling because you don't know where to look and what to look out for, or how to compare one casino from the other. But as you reach the bottom of the page while scanning through a casino's offerings, you come across a badge that reads: "Approved by Bitcoin Casino Kings".
Here's the part where you let out a sigh of relief and a smile suddenly appears on your face. It means that your long and gruelling search for a suitable casino has finally come to an end as Bitcoin Casino Kings has given this casino a full examination and deemed it fit to bear our badge. 
It means that we liked the casino so much that we're willing to put our name on it – simple as that! Our website offers an extensive list of casino reviews, but only the best of the best get the Bitcoin Casino Kings Badge of Approval.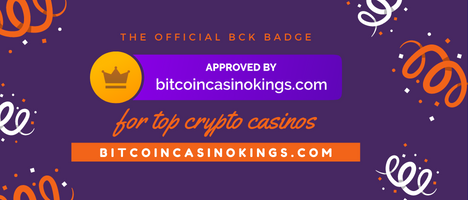 List of casinos Holding BCK Badge of Approval
The Approval Process

Before we slap a badge onto a casino's homepage, the casino has to pass the test and meet our tough requirements. We do this by conducting in-depth casino reviews, and if we approve, and we mean REALLY approve, then we'll offer up the badge. Our review process can be outlined in four steps:
Identify a casino 🕵️
The first step is to identify a casino to review. There are literally thousands out there, but as you know, we specialize in crypto casinos so this generally narrows down our search quite a lot. But still! There are so many out there, and they keep popping up by the day.
We then search the web for casino-related press releases, casino promotions, casino news websites, affiliate websites, bitcoin and casino forums, as well as social media platforms to identify the up and coming crypto casinos and which are worthy of a review. 
Once we find a suitable casino that is not already on our list, it better get ready because BCK is coming around to check things out. 
Join the Casino
🤝
We sign up ANONYMOUSLY as a player and start reading through the casino's offerings and deposit process before depositing. This helps to make sure that we meet all depositing requirements to receive bonuses (should there be any) and to know what the playthrough requirements are.
We pay special attention to the signup process and how user-friendly the deposit methods are with emphasis on minimum and maximum deposit requirements to receive bonuses, as well as accepted currencies and how all this compares to the industry standard. 
We also do our best to outline the long-term benefits of joining the casino, such as the rewards program and frequent promotions.
Testing and Analysis
🔬👨‍🔬
Here's the fun part. We get to become players and do what we do best – play! But of course, while partaking in our favorite casino activities we analyze the performance of the casino's platform and generally just test it out to determine whether or not we're satisfied with the product. 
We put the casino through rigorous testing, from the efficiency of the support team to the tiniest details in the terms and conditions and the types of games on offer. We look at all the key elements that are important to players, and we make sure to give our honest opinions. And with that, the final step.
Withdraw with a verdict
👎👨‍⚖️👍
Once we've given them hell it's time to withdraw our funds from the casino (if we have any left) while documenting the withdrawal process and also putting emphasis on withdrawal methods and speed. 
Once that's out of the way, the notes are compiled and the overall experience is packaged neatly and placed on our list of reviews for your viewing pleasure.
But when it comes to the Bitcoin Casino Kings Badge of Approval, we don't mess around. Just because there's a casino review on our website does not mean that it will have the privilege of sporting our badge.
The key elements we look at during the approval process
Overall experience
Players want to know what the overall experience while playing with a casino is like, so we happily oblige! We give our personal view on the casino as a whole, what the experience was like, what we would have liked to see, and where it can improve. 
Bonuses and Promotions
Very, very important. Casinos offer welcome packages and rewarding promotions to stay competitive and reward their players. And as a player, you'd want to know where the best deals are, right? Well, that's where we come in! We get down to the finest details to deliver the best verdict, and to determine which casinos have the most rewarding promotions and bonus offers.
Available Games
What's a casino without the games? For this part of the review, we look at which game providers feature their games at the casino, and how many games are on offer. And of course, the types of games are very important, and we know exactly what to look out for in this department. 
If a casino offers a sportsbook, then this is something we certainly take into account while conducting our reviews.
Customer Service and Support
A fully functional and effective support team is extremely important for an online casino. One bad experience could see a player never return, and this is where support comes in to ease the frustration. 
We check to see if the casino has a live support function, and we do our best to engage with the support staff and give relevant feedback to our readers regarding the efficiency of the support team and the functionality of the live support.
Deposits, Withdrawals, and Security
Nobody wants to play on an untrustworthy casino website, and we don't want to struggle with payment methods either. For this part of the review, we look at the details when it comes to depositing and withdrawing, and which payment methods and currencies are available. 
We also look at the security protocols and how safe a player's personal information is on the casino's website.
Why Trust Us?
Since pretty much all we do is play at online casinos all day (among other casino related activities), you can imagine that we come across many of them. Yes, we have our favorites, but at the end of the day, the task requires us to remain unbiased and open to reviewing any, and if we had our way, every casino out there (we're dreamers, okay). 
Once you've been doing this for a while (like our many, many years in the industry), you get rather skilled at identifying crucial factors that determine whether or not a casino is, first of all, legitimate, and if the casino as a whole actually has anything worthwhile to offer players. And if it's good enough to mention to our valued readers, then you'll find it in our reviews. 
We keep it simple, honest, and detailed, as our success is measured by the trust and loyalty of our returning readers. It's our game, we play it well, and we play it fair. There's all you need to know about the Bitcoin Casino Kings Badge of Approval and the next time you see it, you'll know what it means. Learn about who we are and more on what we do by following this link. 
We hope our website comes in handy when you're looking for a new or even just a better casino to play with and please share your thoughts in the comments section provided on many of our pages – we like to hear from our readers. Have fun playing, and remember to look out for the BCK Badge of Approval!