Ezugi is a casino game developer and next-generation live dealer casino studio operator, providing cutting edge mobile and web live gaming solutions. Ezugi was established in 2012 and is headquartered in the United Kingdom.
This exciting provider supplies 24 state-of-the-art live dealer casino games,  and broadcasts from 9 different studio locations across the globe, in partnership with over 100 international operators. Since its establishment, Ezugi has become one of the top live casino game providers in the world. 
The company was later purchased by the industry titan Evolution Gaming Group in early 2019. Ezugi is licensed with the Curacao eGaming Licensing Authority and verified by the SCG-Bulgaria, ItechLabs, BMM, and RSG-Eclipse. 
Ezugi games can be played on multiple devices as their multi-platform solution includes PC (Flash), mobile (HTML5) and tablet (HTML5). Their platform is fully optimized to ensure a smooth and seamless streaming experience.
Ezugi Live Game Features
Live games available 24/7

Games available for desktop and mobile

Dealer tipping is allowed

Multiple side bets in certain games

24 Games in collection
New Live Casino Games from Ezugi
Blackjack Da Sorte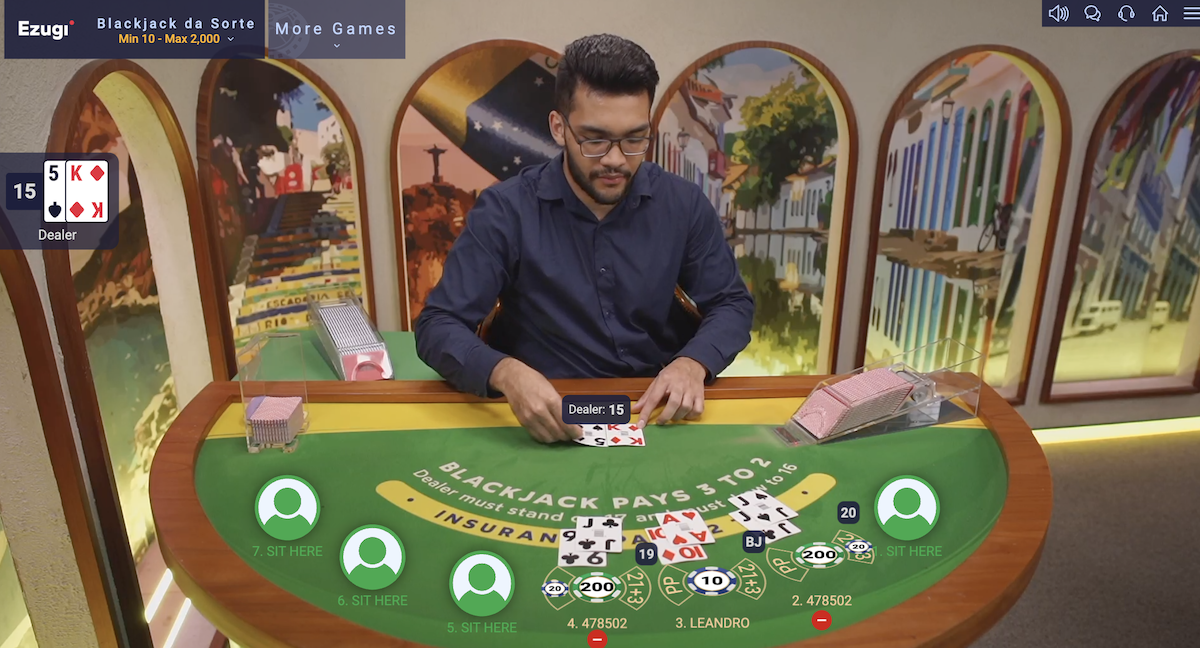 | | | |
| --- | --- | --- |
| Released: June 2023 | RTP: 99.5% | Variance: Low |
| Min Bet: 5.00 | Max Bet: 2,000.00 | Max Payout: 100x |
Blackjack Da Sorte is the Brazilian Portuguese localized variation of live dealer Blackjack from Ezugi. Translated, the name means "Lucky Blackjack." Like many of Ezugi's games, this variation caters more toward high rollers, as the lowest wager you can make is $5, but you can go as high as $2,000. For those unfamiliar with playing blackjack at casino, the objective is to beat the dealer's hand by getting as close to 21 points as possible without going over 21. 
Blackjack Da Sorte also features three side bets you can make. 
Insurance

: This side bet comes into play when the dealer's face-up card is an Ace. You can bet up to half of your original wager on the insurance bet, and if the dealer has a blackjack (a total of 21 points), you'll win at 2:1 odds.

Perfect Pair

: This side bet allows you to wager on the possibility of getting a perfect pair of cards in your initial hand. A perfect pair means that both your cards are of the same rank and suit.

21+3

: The goal here is to form a winning poker hand using your two initial cards with the dealer's face-up card. Whether you have a flush, straight, or even a three-of-a-kind, the higher the ranking of your hand, the greater your payout will be.
It's always fantastic to see game providers catering to players worldwide, offering localized variations like Blackjack Da Sorte. Besides the language difference, this variation doesn't have any significant deviations compared to other live dealer Blackjack games by Ezugi.
EZ Dealer Roleta Brasileira

| | | |
| --- | --- | --- |
| Released: May 2023 | RTP: 97.3% | Variance: High |
| Min Bet: 0.10 | Max Bet: 5,000.00 | Max Payout: 35x |
EZ Dealer Roleta Brasileira is another game that uses a native-speaking live dealer of Brazilian Portuguese. This game combines the best of both worlds with pre-recorded video clips of a professional live dealer and animated gameplay powered by the RNG (Random Number Generator). The result? An extraordinary online Roulette experience ready to captivate casino players.
With EZ Dealer Roulette, you'll enjoy the classic European Roulette game presented in a modern and user-friendly interface. The game provides real-time gameplay statistics, allowing you to stay on top of your strategies and make informed decisions. Your objective is simple: predict the winning numbered slot where the ball will find its place after the wheel comes to a halt. Roulette is a game of anticipation, challenging your intuition and strategic thinking.
EZ Dealer Roleta Brasileira is part of an exciting series of language variants, which kicked off with EZ Dealer Roulette Thai in late 2022. This unique twist on roulette is specifically designed to cater to players who crave a sense of familiarity in the vibrant world of Brazilian Portuguese gaming. Get ready to immerse yourself in the thrilling ambiance of EZ Dealer Roleta Brasileira and experience roulette like never before.
Ultimate Roulette

| | | |
| --- | --- | --- |
| Released: March 2023 | RTP: 97.3% | Variance: High |
| Min Bet: 0.10 | Max Bet: 1,000.00 | Max Payout: 2,000x |
Get ready to enter the dazzling world of Ezugi's very first live casino game show, Ultimate Roulette! This captivating game shares similarities with Evolution's Lightning Blackjack, as it brings a multiplier-packed experience to the realm of Roulette. But here's the twist: Ultimate Roulette unfolds in a circus-themed setting. While adhering to the familiar rules of Roulette, Ultimate Roulette offers an array of opportunities for you to hit it big. In each game round, there is a possibility of up to 11 Straight Up bet numbers on the betting grid being struck by massive multipliers.
Within each round, five Lucky numbers are bestowed with random multipliers ranging from 50x to 1000x. As if that wasn't enough, players can seize the chance to acquire up to three additional Lucky numbers per game round. These Lucky numbers can extend their influence to up to three neighboring numbers on the betting grid, allowing the new numbers to benefit from the same multiplier as the original one. Purchased multipliers have the potential to double (2x), unlocking the thrilling possibility of one or more multipliers reaching a jaw-dropping value of up to 2000x. 
Prepare to be captivated by the incredible spectacle of Ultimate Roulette, where the circus-themed environment and electrifying multipliers combine to create an unforgettable gaming experience. With every spin of the wheel, an extraordinary world of entertainment and exhilaration awaits you.
Video Blackjack

| | | |
| --- | --- | --- |
| Released: Feb. 2023 | RTP: 99.5% | Variance: High |
| Min Bet: 1.00 | Max Bet: 2,000.00 | Max Payout: 100x |
Elevating the realm of mobile casino play to new heights, Ezugi is on a mission to deliver the ultimate casino experience directly to players' fingertips. Introducing Video Blackjack, a game designed exclusively for mobile devices that takes immersion to unprecedented levels. To embark on this extraordinary journey, players will be required to grant access to both their camera and microphone.
The essence of Video Blackjack lies in providing you with the authentic ambiance of a brick-and-mortar casino, where you'll find yourself seated alongside fellow players, engaging in conversations, and witnessing the captivating action unfold. This immersive experience is carefully crafted to ensure that only active participants are present, with no room for observers. At any given time, a maximum of seven players can take their place at the virtual table, creating an intimate and engaging atmosphere.
Following the esteemed traditions of European Blackjack, Video Blackjack incorporates side bets, Perfect Pairs, and 21+3, amplifying the excitement of this timeless casino table game. With meticulous attention to detail, Ezugi has meticulously adhered to all necessary regulations, implementing robust measures and solutions to safeguard against any inappropriate video content. Your safety and security are of utmost importance, ensuring a protected and enjoyable playing experience.
Ultimate Andar Bahar

| | | |
| --- | --- | --- |
| Released: Nov. 2022 | RTP: 94.85% | Variance: High |
| Min Bet: 1.20 | Max Bet: 500.00 | Max Payout: 500x |
Have you ever heard of Andar Bahar? It's a card game that has deep roots in southern India, spanning countless centuries. This game holds a special place in traditional Indian social life, and now, with Ultimate Andar Bahar, Ezugi has taken this beloved classic and amplified the excitement to new heights.
Ultimate Andar Bahar is one of Ezugi's most exhilarating online casino games, and it's easy to see why. They've injected even more thrills into the game by introducing massive multipliers that can send your winnings skyrocketing. Not only do you have the base game with its captivating twists, but you also have the option to explore eight incredible side bets, each offering even bigger multipliers.
If you're unfamiliar with the game, it's surprisingly easy to learn how to play Andar Bahar. The objective is to predict which side – the Bahar or the Andar – will receive a card that matches the initially dealt 'Joker' card. In every game, you have the chance to witness one to three multipliers (2x, 3x, and 5x) landing on random cards in the base game. This means that your potential winnings can soar up to an incredible 125x your main bet!
Top Live Casino Games from Ezugi
Here are some of the most popular Ezugi games available online. 
1. Jackpot Roulette Live
Here we have a Roulette game with some added thrill in the form of a progressive jackpot. Jackpot Roulette from Ezugi takes classic European Roulette and combines it with the exciting possibility of striking it lucky with a fat progressive jackpot to be won every day.
European Roulette has only one zero, unlike its American counterpart which has two. The object of the game is to place bets on the layout in numbered positions, betting on which numbers you think might come up after the dealer has spun the ball in a Roulette wheel. There are 37 numbers including zero. 
Each number on the layout represents a slot in the wheel, and when the ball lands in a slot, the respective position on the layout wins. All bets related to this position will be paid, and the losing bets will be taken. But since you're reading this you probably have a good idea of how Roulette works, so let's see why Jackpot Roulette from Ezugi is different.
This live version has a daily guaranteed progressive jackpot. Each player must contribute $ 2.20 to the prize pool on top of their bet for every spin to be eligible for the jackpot. The jackpot can only be won once per day, and by one player only. Once the jackpot has been won, the side-bet contributions for the jackpot will start for the next day.
You can tell that the dealers are experienced and well-versed in English, but the game is available in six different languages as well. You can choose your chip denominations while betting as a small Roulette layout appears at the bottom of the screen. Here, simply click on the positions you wish to bet on and voila! You're in it to win it.
To the right side of the screen, there is a table displaying game statistics. At the top, you'll find the jackpot meter which displays the current progressive jackpot amount. You can also change the camera view to have a closer look at the wheel, which is a great feature.
Payouts:
Straight Up (1 Number) = 35:1

Split (2 Numbers) = 17:1

Street (3 Numbers) = 11:1

Corner

(4 Numbers) = 8:1

Line (6 Numbers) = 5:1

Column-Dozen (12 Numbers) = 2:1

Red/Black (18 Numbers) = 1:1

Even/Odd (18 Numbers) = 1:1

1-18/19-36 (18 Numbers) = 1:1
This is a great Roulette game if you're looking for something extra, and by extra, I mean cash. The jackpots have been known to grow rapidly when players hit this table, and there's no limit to the value of the jackpot either. No wonder why this game from Ezugi has become so popular.
Features:
Detailed Game History (Numbers, Hot/Cold Numbers, Recent Winners)

Unlimited players

Video & audio controls

Live chat

Live support chat

Dealer tipping

Ability to play multiple games at once 

Mini and nano games

Live music on demand

Multi-camera on select tables

Available in 6 different languages
Type: Progressive Jackpot Live Roulette 
Released: 2020
2. Dragon Tiger Live
Dragon Tiger Live is a simplified version of Baccarat that uses only two cards. The game is very easy to play, which is probably the reason why it's seen such a massive rise in popularity since its release in 2017.
There are two sides to the table, one is the Dragon side, and the other is the Tiger. When facing the dealer, the Dragon is on the left and the Tiger on the right. Before the dealer deals the cards, players have to bet on which side they think the high card will be dealt. The dealer will then deal one card to each side, and the highest card wins. It's that simple!
You also have the option to bet on a tie, and the payout odds are much higher with this bet. There are also a few side bets, but since Ezugi's games are customizable by the casino operators, you might not find this option at all online casinos.
The dealer will allow players to place their bets before dealing the game, and you'll have about 15 seconds to place your bet, but since you only need to place one or two, this is ample time. Once betting is closed, the dealer will continue to deal. The game moves along fast, and if you hit a winning streak you could be coining the wins in no time.
Dealers are audible, friendly, and very experienced. I haven't seen any dealer mistakes while playing this game, but then again, it's so easy I'm sure the dealing process becomes like second nature for them.
Here are the betting options and payouts:
Dragon = Pays 1 to 1

Tiger = Pays 1 to 1

Tie = Pays 8 to 1
There are several different strategies to playing this game, I've seen many experienced players play either Tiger or Dragon, but including a bet on the Tie position. The 8 to 1 payout is attractive, and I can see why this strategy may be effective. Especially when considering the game history which is available in the statistics panel at the bottom left of the screen.
If you do find a casino that offers the side bets, you'll have the option of betting on the next card's suit, whether the card will be even or odd, and if the card will be big or small (smaller than 7 or bigger than 7). 
These are the payout odds for the side bets:
Suit = 3 to 1

Odd/Even = 1 to 1

Big/Small = 1 to 1
This is really an enjoyable game, and as always, there is a live chat function if you wish to mingle with other players. Everything has been created in such a way as to create the feeling of sitting at a real casino table. I can highly recommend a shot or two at this exciting game. You might find Dragon Tiger available with other game providers, but Ezugi does it very well, and will never disappoint.
Features:
Available 24/7

Attractive payouts

Simple game rules

Unlimited number of players

Dealer tipping

In some casinos, side bets are available
Type: Progressive Jackpot Live Roulette 
Released: 2020
3. 32 Cards Live
32 Cards is a thrilling new live card from Ezugi played using a deck of 32 cards with all aces, 2s, 3s, 4s, and 5s removed from a regular 52 card deck. All Jacks are equal to 11, Queens 12, and all Kings are 13. 
There are 8 boxes displayed on the table. The four boxes closest to the player are called Player 8, Player 9, Player 10, and Player 11. The boxes closest to the dealer are where the dealer will be placing the cards, with one card per box. The player will need to choose which "Player box" will be the winning hand before the cards are dealt. 
Each Player box represents the value displayed inside the respective box, which will then be added to the value of the card dealt to the box. After the cards have been dealt, the position with the highest value wins.
Example: If you bet on Player box number 8, and a card with the value of 10 is dealt to the box, then your total is 8 + 10 = 18. If a card with the value of 8 is dealt to Player box 9, the total is 17 (9 + 8 = 17). When all cards have been dealt, the highest position wins, and all players which bet on the winning box will be paid.
Each betting position has its own payout odds which are:
Player box 8 = 11 to 1

Player box 9 = 4.5 to 1

Player box 10 = 2.2 to 1

Player box 11 = 1 to 1
If two or more boxes equate to the same value, a second card will be dealt to each of these boxes following the same dealing order. This will continue until a clear winner has been established. This game allows for an unlimited number of players and is available for play 24/7. The game has been approved by the MGA and Curacao Gaming Authority.
32 Cards Live is available for play in multiple fiat and cryptocurrencies and can be found at most casinos that offer games from Ezugi. According to their website, this game is very popular among players from the Indian subcontinent. This is a unique game to Ezugi and a heap of fun, I would certainly recommend 32 Cards Live.
Features:
Available 24/7

Available on desktop and mobile

MGA and Curacao approved

Unlimited number of players

Dealer tipping is optional

Side bets on most games
Type: Live Card Game
Released: October 2020
RTP: Theoretical RTP of 92.71%
4. Lucky 7 Live
This exciting card game was also released in early 2021 and Ezugi's version of the popular "hi-lo" game format. Lucky 7 Live was also developed to target the Indian market, but according to Ezugi, due to the simple game concept and fast-play action, the game should become quite popular in most regions of the world.
The game is played with 8 decks shuffled into a shoe. The dealer will deal one card only into the box displayed on the table. Players must guess if the next card will be lower than 7, higher than 7, or 7 straight. Before placing a bet, the chip denomination must be chosen from the slider displaying all the possible values, after which the bets can be placed by simply clicking on the positions.
The betting positions are:
7 Up (Card higher than 7) = Pays 1 to 1

7 Down (Card lower than 7) = Pays 1 to 1

7 (Card with the value of 7) = Pays 10.5 to 1
Once the dealer has pulled the card, all winning bets will be paid out and the dealer will give the players a chance to place their bets for the next round. If the dealer pulls a 7, the 7 Up and 7 Down bets will lose 50%.
There are also four side bets:
Red (Next card is a red card) = Pays 0.9 to 1

Black (Next card is a black card) = Pays 0.9 to 1

Even (Next card is an even number) = Pays 1 to 1

Odd (Next card is an odd number) = Pays 0.8 to 1
You won't have to place a bet on one of the main bets to be eligible for the side bets, but you do have the option to play both the side bets and the main 7 bets if you choose. 
Lucky 7 Live is dealt by a live dealer from one of Ezugi's many streaming studios. The dealers are quite interactive which makes for a very entertaining game. The game interface consists of betting options and a few game statistics including the game history. You also have the option to change a few game settings such as the sound and chat functions. You can also chat with live support if you encounter any issues.
This is a thrilling game and fast-paced indeed. It's a great option when you're looking to place a few bets without having to apply much skill or strategy. This game is also available to play on mobile devices so you can pretty much do anything while playing.
Features:
Available 24/7

Available on Desktop and Mobile

Includes 4 side bets

Unlimited number of players

Dealer tipping
Type: Live Card Game
Released: 2021
RTP: The optimal theoretical percentage return to the player of Lucky 7 for the main bet is 92.3%, the side bets on Red/Black are 95%, odd is 96.92%, and even is 92.31%.
Other Live Dealer Games from Ezugi
SicBo

– SicBo is an exciting game of chance played with three regular dice with a face value of 1 to 6. The objective of SicBo is to predict the outcome of the shake of the three dice. You can bet the outcome of one dice, two dice, three dice, the total and more. The theoretical RTP of SicBo main bet is 89.07%.

Bet on Teen Patti – This card game is based on the hand strength of a Poker game between Player A against Player B with 3 cards each. The player needs to bet which one of the players will have a better 3 Card Poker hand. The optimal theoretical percentage RTP of Teen Patti's main bet is 97.39%, a pair or better side bet is 95.51%, 3 + 3 Bonus side bet is 91.44%.
3 Card Poker

– Three Card Poker is an exciting Poker game between the dealer and the player with 3 cards each. The only cards participating in the game are the dealer's and the player's 3 cards drawn. The best hand between the dealer and the player wins based on traditional poker hand rankings. The optimal theoretical percentage return to the player of 3 Card Poker on the Ante bet is 96.63%, the Pairs Plus side bet is 95.51%, and the 6 Card Bonus side bet is 91.44%.
All Ezugi Games
OTT Andar Bahar 

32 Cards 

Baccarat No Commission 

Lucky 7  

3 Card Poker  

Teen Patti

Bet on Teen Patti

SicBo

Jackpot Roulette

Andar Bahar

Blackjack

Live Roulette

Blackjack Bet Behind

OTT Roulette

Auto Roulette

Knockout Baccarat

Dragon Tiger

Casino Hold'em

Bet on Numbers

Keno

Baccarat Dragon Bonus

Baccarat Super 6

Unlimited 21 Blackjack – Auto Split

Baccarat
Recommended Bitcoin casinos with Ezugi games
These Bitcoin casinos are offering Ezugi slots in their selection.
User Reviews
Here is the user rating summary of Ezugi games:
How do you like Ezugi games? Please share your thoughts below in the comment form!
FAQ
What is Ezugi?Ezugi is a casino game developer and next-generation live dealer casino studio operator, providing cutting edge mobile and web live gaming solutions. Ezugi was established in 2012 and is headquartered in the United Kingdom.
What games does Ezugi have?Ezugi offers live casino games such as: SicBo, 32 Cards, OTT Andar Bahar, Lucky 7, Jackpot Roulette, Bet on Teen Patti, Baccarat No Commission, 3 Card Poker, Teen Patti, Andar Bahar, Blackjack, Unlimited 21 Blackjack - Auto Split, Blackjack Bet Behind, Live Roulette, Auto Roulette, OTT Roulette, Baccarat, Knockout Baccarat, Baccarat Super 6, Baccarat Dragon Bonus, Dragon Tiger, Casino Hold'em, Bet on Numbers and Keno.
What is OTT?Over-The-Table (OTT) solution seamlessly combines land-based casinos with Live Gaming technology to leverage the existing tables, by allowing you to stream real live games to players across the room or across the world.
Final thoughts
It's easy to see why Ezugi has made such a big name for itself. You may find different variations of these games, as the providers' games are fully customizable and can be tailored to a casino's target market and to suit the casino's specific needs. So you might find over 50 Ezugi games at a casino, but these are all customized variations.
I haven't experienced any lagging or related issues while playing, as the games are quite seamless in this regard. And the fact that games are available on both desktop and mobile platforms means that you can get straight to your gaming action, anywhere, anytime. This is a great provider and I was thrilled to conduct this review. Thanks for the experience, Ezugi!
Further reading: