Live dealer game providers, Ezugi, have just bowled up a winning combination with the release of a brand new card game created especially for cricket fans – Cricket War. 
Cricket War was developed to appreciate and celebrate players who love this world-renowned game of bat-and-ball, providing them with a product that speaks specifically to the sport of cricket. With millions of cricket fans around the world, there is no doubt Cricket War will have loads of players batting for the win.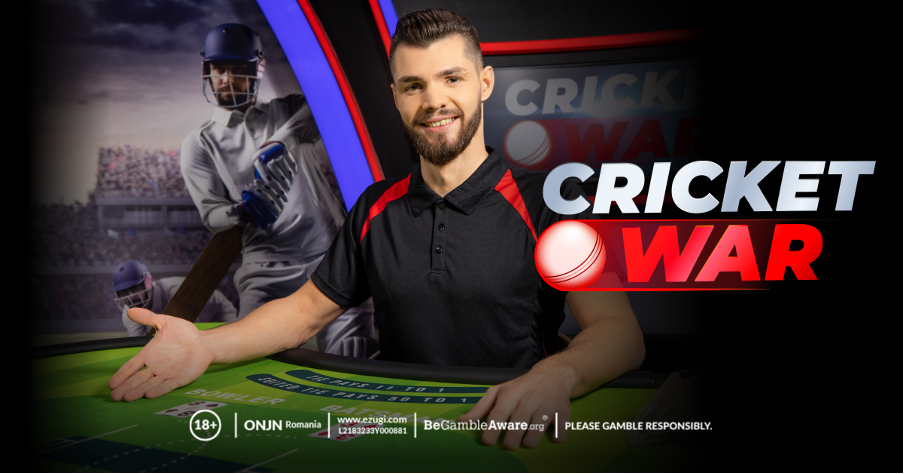 Cricket War is a brisk two-card game that is based on the same concept as that of the massively popular Casino War game. In this live game, only two cards are dealt. One card is for the Bowler, and the other is for the Batsman. The aim of the game is to predict which of the two cricketers will get the higher value card, or whether or not they will result in a tie. The rules are simple, but this game is packed with thrilling gaming action making it fun for both newbie and seasoned live casino players. 
With cricket fans as the inspiration and at the core of Cricket War, specific attention has been taken to provide players with an awesome live casino experience that has a world-class sporting atmosphere. 
In Cricket War, you'll see a table designed specially to mimic a cricket ground, complete with felt covering and greenery that is uncanny and utterly accurate. Adding to the overall sports environment, the dealers wear cricket uniforms and the surrounds of the game is a sports arena, working to enhance the feel of a live cricket match. 
When players enter the game, they will see live betting statistics and bead roads which will help them predict the results of future rounds of the Cricket War game. 
Commenting on the launch of Cricket War, Pang Goh, Business Development Director at Ezugi, said: "Our aim at Ezugi is to understand different markets to their core. We want to know where their passions lie, and what players in those markets would benefit from. For the Indian market, one of the greatest passions is definitely cricket. So, it made sense to boost our card game variety and to appeal to Indian live casino players with the launch of Cricket War. It's going to be an exciting release – it's a simple and captivating game format that will give our players an authentic cricket stadium experience, in an online casino environment."
Ezugi has been in the industry for almost 10 years, and now part of Evolution, it looks to carry on expanding its presence in the Indian market specifically, and the first step in doing this was with the release of Cricket War given the large number of cricket fans in the country. Ezugi operates from numerous studios around the world and has 20 different types of games, with partnerships with more than 200 worldwide operators. 
Together Ezugi and Evolution have taken the live casino world by storm and it doesn't look like anything or anyone will be standing in their way.