iSoftBet is an online casino game provider founded in 2010. The company has online gaming certificates or licenses in 16 regulated markets including countries like UK, Italy and Switzerland.
iSoftBet has offices in the UK, Romania and Malta.
New Slots from iSoftBet
Gaze of Gold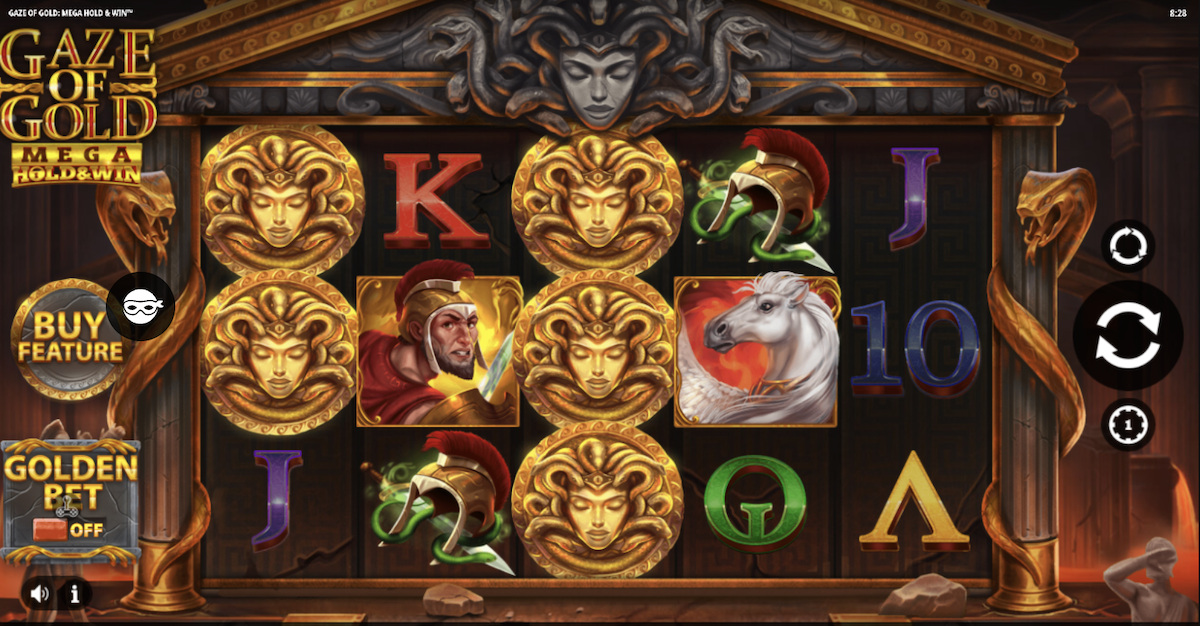 | | | |
| --- | --- | --- |
| Released: July 2023 | RTP: 95.95% | Variance: Med-High |
| Min Bet: 0.20 | Max Bet: 20.00 | Max Payout: 15,000x |
Gaze of Gold is a new online slot that boasts a 5×3 layout with 20 paylines, offering you ample opportunities to strike it rich. The main highlight of this game is the Gorgon's Gaze Modifier, a feature that can randomly trigger during the base game. When this modifier comes into play, it works its magic by locking all winning symbols and scatter symbols in place, granting you a respin. And as long as winning symbols keep landing, the respins keep on coming! 
This slot game also has an extraordinary hold and win bonus game. To access it, you'll need to land five Golden Shield scatter symbols. Once you manage to land five of them, prepare for an adventure like no other. As you enter the hold and win bonus game, you'll be awarded three respins that reset every time a new symbol lands on the reels. From instant cash prizes to powerful boosters like multipliers and collection symbols, every spin can lead to astonishing rewards.
And you can take my word for it! During one of my bonus rounds, I was fortunate enough to secure a massive 126x multiplier from a modest $5 wager. Moments like these are what make Gaze of Gold an absolute gem in the world of online slots. In my opinion, Gaze of Gold is a must-play for fans of hold and win slots. I was mesmerized every time Medusa's gaze appeared on the screen, unlocking additional spaces along the reels and amplifying my winnings. This game kept my gaze from the first spin to the last.
Cash Lab Megaways

| | | |
| --- | --- | --- |
| Released: June 2023 | RTP: 96.47% | Variance: High |
| Min Bet: 0.20 | Max Bet: 20.00 | Max Payout: 20,000x |
Cash Lab Megaways introduces an unusual layout with expanded reels at its center, offering a staggering 200,704 paylines. Yes, you read that right, nearly twice the number of paylines found in other Megaways slots. In the base game, you'll discover plenty of full reel wilds and full reel multipliers to help boost your winnings. These elements really help to keep the game engaging.
To unlock the free spins bonus round, you'll need to land four or more scatter symbols across the reels. This can give you up to 20 free spins to spin the reels with. As you start the bonus round, you'll begin with one sticky wild. However, with each spin, you have the chance to earn additional sticky wilds by landing and spelling out the letter L-I-N-K on the reels. Here's where things take a slight turn for me while playing Cash Lab Megaways. The sticky wilds are not permanent during the bonus round, as they lose their "stick" once they contribute to a winning combination.
Here's what I liked about Cash Lab Megaways. The mad scientist character and his playful expressions throughout the gameplay added a touch of whimsy and enjoyment. It's always refreshing to have engaging characters that bring the slot to life. However, I have to address the major drawback of this online slot. While you may initially feel a high hit percentage during your gameplay, upon checking your balance, you'll notice that the win totals don't necessarily add up to significant payouts. Expect a lot of smaller-sized wins and few-and-far-between big wins.
For me, Cash Lab Megaways presents a mixed bag of features and outcomes. It's certainly worth testing out, especially for the amusing mad scientist theme and the unique mechanics it offers. However, I advise you to manage your expectations regarding substantial wins with this game.
Olympus Raging Megaways

| | | |
| --- | --- | --- |
| Released: May 2023 | RTP: 96.07% | Variance: Med-High |
| Min Bet: 0.40 | Max Bet: 40.00 | Max Payout: 25,000x |
Get ready for an epic clash between Zeus and Hades, where you get to enjoy not just one but two sets of reels spinning simultaneously, offering a whopping 117,649 paylines. Olympus Raging Megaways introduces an innovative concept that truly sets it apart. With two sets of reels spinning at once, you're in for a double dose of excitement and increased winning potential. 
In the base game, you'll spin the reels to collect coins to fill the Wheel of Kronos Meter to unlock instant jackpot cash prizes. And playing with two sets of reels simultaneously, you effectively double your chances of triggering one of three different free spins bonus rounds. To do this, you'll need to land four or more scatter symbols on either side, which can reward you with up to 22 free spins to enjoy.
There are two singular god-sized bonus rounds. Zeus's bonus game introduces random wilds that can enhance your winning potential, while Hades's bonus game features walking wild symbols that keep the excitement alive with every step they take. Both bonus games also include a progressive multiplier, further boosting your chances of landing massive payouts. But landing four or more Battle scatters will put you in the final showdown between both gods, and you'll receive all the reels and every bonus feature with 15 free spins.
The biggest takeaway from my gameplay was that Hades's side consistently delivered more rewarding wins compared to Zeus's side. This trend even continued during the Battle Free Spins, where Hades's free spins with walking wilds dominated the scene. One can't help but wonder if the developers had a slight bias here. Nevertheless, while Hades's side might steal the show in terms of rewards, the overall concept and gameplay of this slot make it a must-try for any slot player.
Great Aztec

| | | |
| --- | --- | --- |
| Released: May 2023 | RTP: 96.28% | Variance: High |
| Min Bet: 0.20 | Max Bet: 20.00 | Max Payout: 2,500x |
Great Aztec follows a standard 5×3 layout with 20 paylines, offering a familiar setup for players. The base game presents a few features, including an ante bet, multiplier wilds, and mystery symbols. These mechanics aim to enhance your chances of landing matching wins by replacing symbols, multiplier your totals, or triggering the bonus round faster.
To unlock the hold and win bonus round, you'll need to land four or more scatter symbols on the reels. Once activated, you'll receive three respins that reset whenever a new symbol lands. Filling an entire row during this bonus game will multiply the prizes on that row with a 5x multiplier. Additionally, there's the possibility to spin for jackpot multipliers, which can really help to boost your overall winnings.
Unfortunately, despite being a hold and win slot, Great Aztec fell short of my expectations. I'm not entirely sure if it's simply a case of being underwhelmed after playing Olympus Raging Megaways or if the game genuinely lacks captivating elements. Either way, the overall experience left much to be desired. For me, the visuals, while bright, fail to captivate. Moreover, the win potential of Great Aztec appears to be lackluster as well. I found myself not only lacking enjoyment during gameplay but also experiencing a steady loss of funds. The payouts simply did not match up to my expectations, leading to a frustrating and unfulfilling experience overall.
Based on my experience, I cannot and will not recommend Great Aztec as a new slot worth trying. It pales in comparison to other titles in iSoftBet's lineup, and its lackluster visuals and underwhelming win potential contribute to an overall disappointing gameplay experience.
Crabbin' Crazy 2

| | | |
| --- | --- | --- |
| Released: April 2023 | RTP: 95.93% | Variance: Low-Medium |
| Min Bet: 0.20 | Max Bet: 20.00 | Max Payout: 2,000x |
At first glance, it's evident that Crabbin' Crazy 2 surpasses the original in terms of overall design and digital art. The visual enhancements elevate the gaming experience, offering a more visually appealing and polished game. But let's do a deep dive into the waters to look at the similarities and differences between the two games. 
Both Crabbin' Crazy and its sequel feature a 5×3 layout with 20 paylines. Additionally, both games offer a You Pick Bonus feature that awards random rewards to keep the excitement flowing. In Crabbin' Crazy 2, the You Pick Bonus rewards include enticing options such as automatic winning spins, synced reels with matching symbols, mega symbols, and a collector symbol that gathers all the crabs on the reels, leading to instant cash prizes. 
However, Crabbin' Crazy 2 lacks the free spins bonus round present in the original game. This omission might disappoint players who enjoyed the thrill of the free spins and the potential for big wins it offered. It's a trade-off that could leave some fans of the original feeling that Crabbin' Crazy 2 falls slightly short.
Having thoroughly played both games, it's challenging to pinpoint exactly what Crabbin' Crazy 2 offers that the original doesn't, apart from the sleeker design and the inclusion of the ante bet feature. In fact, some might argue that the higher volatility and the presence of the free spins bonus in the original make it a more enticing option. That being said, if you were a fan of the original Crabbin' Crazy, you'll likely find enjoyment in this sequel. The improved visuals and the addition of the You Pick Bonus feature contribute to an enhanced gaming experience. So, if you're seeking a continuation of the crab-filled adventure, Crabbin' Crazy 2 is worth exploring.
Top Slots from iSoftBet
Here are some of the most popular iSoftBet slots introduced. iSoftBet has acquired a lot of rights to movie title slots, and here are the two best (in my opinion) introduced: Rambo and Paranormal Activity.
Especially Paranormal Activity is an excellent and scary slot game – a must for all horror movie fans!
1. Rambo
If Rambo played slot games, he would definitely play Rambo the slot game. This is a slot game for all action packed guerrilla warfare action movie fans out there. Like me. Along with Terminator movies, Rambos were my favourite movies back when I was younger. And they still are. But let's look at the Rambo slot game now.
There are 720 different paylines available. Winnings are awarded from left to right with adjacent symbol combinations.
Here are the special features introduced.
The Rambo Wild symbol replaces all symbols except Scatter and Progressive symbols. During Free Spins, Wilds will not count with any extended symbols.
If you get enough Scatter symbols, the rewards are like this:
3 Scatter symbols awards you 5 free spins + 5 x total bet prize.
4 Scatter symbols awards you 10 free spins + 10 x total bet prize.
5 Scatter symbols awards you 15 free spins + 15 x total bet prize.
At the beginning of Free Spins Bonus Game, one symbol is randomly chosen from 10 normal symbols. After the initial pays are made, this symbol can extend to the whole reel to award additional wins. Wilds do not count after extended symbols and only the chosen symbol will award wins.
If you get 3 or more Scatter symbols during the Free Spins Bonus Game, that will award additional 15 Free Spins while keeping the same extendable symbol.
The Progressive symbols (the Golden Hand Grenade symbol) can be anywhere on the reels in the regular game and also during the Free Spins Bonus Game. The progressive symbols will trigger these different Jackpots like this:
5 Progressive symbols will trigger the Bronze Jackpot (About 26x bet).
6 Progressive symbols will trigger the Silver Jackpot (About 88x bet).
7 Progressive symbols will trigger the Gold Jackpot (About 410x bet).
8 Progressive symbols will trigger the Diamond Jackpot (About 8000x bet).
The Jackpot prizes can be seen around the slot reels. The jackpot sizes are proportional to your bet size.
Rambo slot game is a great package of war action put to a form of a slot game. The background sounds have explosions, bombings, helicopters and other sounds familiar from old Vietnam war movies and especially Rambos. There are also some animations taken from Rambo movies when you win something with major symbols.
The Bonus Free Spins game was really hard to trigger and in fact I couldn't trigger it at all during the few hours testing session. Either Rambo is a really high volatility slot game or I had just bad luck for a long session.
Otherwise I would wish a little more special effects to the play. Rambo slot game would benefit a lot from bigger animations, explosions and other action flying over the reels. Maybe also the music could be better and make the feeling more intense. There are just few short jingles when you win something.
Also the bonus game could have some idea of guerrilla warfare or some other plot taken from Rambo movies.
So in conclusion Rambo slot is not an awful slot game, but I feel that with a little effort it could be a way better and a really big hit among action fans. I feel that something is missing in graphical sense (explosions etc) and also the bonus features lack some excitement and a story.
Anyway for Rambo fans this slot is a must. At least go test it and check if you like it or not.
Game released: Probably 2018 (Some sources pointed to 2013 which I think is not true)
RTP (Return to player): 97.02 %
Variance: Unknown
Layout: 3-4-5-4-3
Betting lines: 720
2. Paranormal Activity
Paranormal Activity is a slot game base on a horror movie with the same name published in 2007. The movie received positive reviews upon release and was something new in the horror film scene at the time. The iSoftBet slot game was published in 2016.
The Paranormal Activity slot has a quite standard 5 x 3 symbol structure. There are 243 ways to win. There are no regular paylines, but instead wins are awarded from left to right with adjacent symbol combinations.
I personally haven't seen the movie yet, but let's check how the slot game succeeds.
Bonus symbols exist only on reels 1, 3 and 5. All 3 Bonus symbols in the reels will award you the Bonus Wheel.
The Bonus Wheel can give you the following prizes:
Paranormal Spins: This feature means Unlimited Free Spins until 5 wins, with increasing multipliers. Multipliers go up like this: x1, x2, x3 ,x4 and x5 with the 5 wins.
Possessed Spins: 10 Free Spins with extra stacked Wilds to boost the winnings.
Demon Spins: 15 Free Spins with random Demon symbol adding extra Wild symbols. Also the Demon symbol is a Wild symbol.
Instant Wins: Amounts will be multiplied by the coin value used to trigger the Bonus Wheel.
In general the Bonus Wheel was really difficult to get in my tests. I don't know if it's just an iSoftBet feature, but I had the same problem while testing the Rambo slot. Or it's possible that I just had a bad run while testing.
I managed to get one cash prize and one time the Demon Spins. Demon Spins was really cool feature with red screen and the Demon shooting more Wilds into the reels.
There is also a scary Paranormal Activity feature. This can appear randomly at the start of any normal spin. Up to 5 extra Wild symbols will be generated randomly and frozen in place for the reels for that spin.
Scatter symbols will pay you in any position from 3 – 5 Scatters.
The Wild symbols can replace all other symbols except Bonus and Scatter.
In conclusion Paranormal Activity was a really good surprise. The slot will keep the typical feeling of horror films well and also the features support this. Especially the random Paranormal Activity feature is really cool. Also the Bonus Wheel is very interesting, but I would personally remove the cash prizes to get more Free Spins features in the play.
If you like horror films in general, you will love Paranormal Activity slot as well. However if horror films are not your cup of tea, skip this slot.
Paranormal Activity is very high quality slot game with great bonus features. Excellent job!
Game released: October 2016
RTP (Return to player): 96.75 %
Variance: Unknown
Layout: 5 x 3
Betting lines: 243
3. Roo Riches
Roo Riches is a brand new kangaroo-themed slot game published in January 2020. Roo Riches has a lot of Australian feelings with the mystical music full of Didgeridoo and other cool traditional instrument sounds.
Roo Riches is a quite basic 5 reel slot game with a Free Spins Bonus Game, Random Cash Chip Spins and a feature that can be bought separately: Lightning Bet.
The bonus features are like this.
The Cash Chip Spin occurs randomly. All chips in the reels are cashed in instantly.
If you want, you can press the Lightning Bet to enter the special betting mode. During Lightning Bet spins, only cash chips are in play. Any which land in view will be cashed in.
Lightning Bet will cost 200 x selected coin value.
Each chip will activate the position, turning it blue. If you activate all 15 positions, you trigger 3 x Lightning Respins.
With Lightning Bet you can trigger Lightning Respins and win up to 15 000 coins.
In the Free Spins, only cash chips are in play. All symbols that land on the reels will be cashed in.
If you get 3, 4 or 5 scattered Bonus symbols, you will be granted 7, 10 or 15 Free Spins respectively.
In overall Roo Riches slot game didn't impress me. The music is nice, but it's looping the same part again and again and it gets boring after a while. Also the sounds could be better and more inspiring.
The gameplay also needs something more. The basic gameplay is very…basic with only Bonus symbols. There are no Wild symbols in play.
Random Cash Chip Spins bring a little variance to the play, but the Free Spins Bonus Game was really boring. You only wait for the money chips and cash them in – that's it.
Also the special feature Lightning Bet was weird. It costs a lot (200 coins!) for just one spin! The spin can also be blank and there goes 200 coins and practically nothing happened.
The RTP (Return to player) percentage however is very good with 97.66 %.
In conclusion Roo Riches is very basic and bland slot game. I personally would pick some other slot as this slot was just quite boring to play. For example the next slot introduced, Fishin' for Gold is in another level in my opinion compared to this.
Game released: January 2020
RTP (Return to player): 97.66 %
Variance: Unknown
Layout: 5 x 3
Betting lines / combinations: 10
4. Fishin' for Gold
Fishin' for Gold is a cartoonish 5-reel slot game with ice fishing theme. This slot is also brand new published in February 2020.
Let's check first the bonus features of Fishin' for Gold.
Golden Fish on reels 2, 3 and 4 triggers the Fishin' for Gold Bonus which is practically a Free Spins Bonus Game with a feature to choose in the beginning. So first you can choose your faithful Fisherman out of four choices: Polar Bear, Penguin, Walrus or Lion (?!).
Then the four characters start an ice fishing competition and try to catch bonus features for the free spins bonus game. You can try to catch symbols for extra Wilds and also Wilds with multipliers x2, x3 or even x5.
During the Free Spins, any symbols caught on the ice fishing competition Bonus Round act as Wild symbols. These can be spotted from the Golden color of all Wilds. They can substitute any symbol except the Gone Fishin' signs.
There can be also Golden Wild Multipliers which will multiply any wins they are part of.
During the free spins, for every 3 Gone Fishin' symbols collected you will be awarded 2 extra free spins.
There is also a Bonus Chance feature. Land exactly 2 Bonus symbols to boost the Bonus Chance meter.
You can spin the wheel at any time for a chance to trigger the bonus. The more Bonus symbols you have collected, the greater the chance to trigger the bonus. Each spin of the wheel will cost 1x current bet amount and the wheel will reset to zero after each spin. The green area indicates the winning area in the wheel.
In conclusion Fishin' for Gold is quite nice slot game. The features are fairly simple, but they work well as a whole. The free spins bonus game with ice fishing competition is well thought out. The ice fishing event will affect a lot to the free spins bonus outcome if you get a lot of multipliers.
The music and sounds could be more interesting and they get a bit boring after a while. But as a whole Fishin' for Gold is a very good and entertaining slot game in my opinion!
Game released: February 2020
RTP (Return to player): 96.05 %
Variance: High
Layout: 5 x 3
Betting lines: 25
High RTP Slots from iSoftBet
These are the highest RTP (Return to player) percentage slots I found from iSoftBet.
1. The Ruby (RTP 97.5 %)
The Ruby is a 5-reel slot game that looks like a traditional casino slot machine. Even the background noise consists of casino atmosphere where people are having conversations and playing slots. So if you want to get as close as possible to a brick-and-mortar casino feeling, the Ruby does it well!
Wild symbol replaces any symbol except for Bonus and the Ruby symbols.
Ruby on Fire is a feature where randomly some or all of the reels 1, 3 and 5 can become Wild reels. In addition on reels that are not Wild, random symbols become Wilds.
If you get 3 Bonus symbols on reels 1, 3 and 5, that will trigger the Bonus Round. In the Bonus Round you have the option to spin the bonus wheel with these prizes:
Ruby Jackpot (About 1390x bet)
Topaz Jackpot (About 557x bet)
Cherry Jackpot (About 279x bet)
Up to 100x total bet
Up to 10 Free Spins + 5x total bet
If you get the Free Spins, there are some special features. The Ruby symbol only appear during Free Spins. The Ruby is a Wild symbol and it can do also these features:
Become a Sticky Wild until the end of Free Spins.
Become an Extended Sticky Wild until the end of Free Spins.
Award an Instant Win up to 10x total bet.
Free Spins cannot be retriggered.
In overall The Ruby is an excellent slot game if you like old style slot machines and the general feeling of brick and mortar casinos. There are a lot of bonus features, but the Bonus Wheel was really hard to trigger as in many iSoftBet slots I have tested.
Nothing to complain on graphics and animations. However the lack of music with just background noise gets a little boring after a while.
The RTP (Return to player) rate is excellent with 97.5 %.
Game released: December 2018
RTP (Return to player): 97.5 % (Very good!)
Variance: Unknown
Layout: 5 x 3
Betting lines: 30
2. 3 Charms Crush (RTP: 97.23 %)
3 Charms Crush is an über cute slot game with quite interesting 5 x 5 slot board. This slot has the best RTP (Return to player) percentage I found from iSoftBet slots with 97.23 %. This can be considered good or very good when compared to other slots.
3 Charms Crush consists of only 3 regular symbols: pink, orange and green. The symbols will pay if you get 3, 4 or 5 of them to the same row. The symbols have to start from the left side of the reels to count as a win.
The multipliers vary depending on the row they appear. The topmost row will pay x1, then x2, x3, x4 and the bottom row pays x5.
The Super feature appears when you get 5 of best paying Pink symbols to the bottom row. This is the maximum payout possible.
In conclusion 3 Charms Crush is very simple slot game. There is only 3 symbols, no Wild symbols, no Scatter symbols, no bonus games. For me 3 Charms Crush got boring after few minutes.
The graphics and animations look ok, but the cute theme in symbols and music was a bit too much for me. The RTP (Return to player) percentage is however very good.
If you are looking for a really simple and cute slot with good RTP, 3 Charms Crush could be the one. But it wasn't my cup of coffee unfortunately.
Game released: August 2018
RTP (Return to player): 97.23 % (Very good!)
Variance: Low-Medium
Layout: 5 x 5
Betting lines: 5
More high RTP iSoftBet slots to try
Here are few more high RTP iSoftBet slots if you want to give them a try:
Hot Shots (RTP: 97.15 %)
Shaolin Spin (RTP: 97.15 %)
Fruit Boxes (RTP: 97.10 %)
Wisps (RTP: 97.10 %)
Beverley Hills 90210 (RTP: 97.09 %)
Recommended Bitcoin Casinos with iSoftBet slots
These Bitcoin casinos are offering iSoftBet slots in their selection.
User Reviews
Here is the user rating summary of iSoftBet slot games:
How do you like iSoftBet slot games? Please share your thoughts below in the comment form!
FAQ
What is iSoftBet?iSoftBet is a game platform with more than 150 top-performing proprietary titles designed to cater for a wide variety of tastes, from cutting-edge features to classic casino experiences.
Which are the latest iSoftBet slots?The latest releases from iSoftBet are: Diamond Heist Hold&Win, Moon Spirit Hold&Win, Hot Spin Hot Link.
What are custom games?A custom game is a game which you can customise to your preference, logo etc. In a saturated marketplace, iSoftBet provides the opportunity for casino to customise their casino games, with the aim of delivering differentiated, tailor-made and exclusive content.
Final thoughts
This was our article about iSoftBet slots. Feel free to send mail, write a message via the contact form or write your comments or suggestions here!
Thank you for reading!
Sources for this article:
Slotcatalog.com for some slot data