A casino player has won a never-seen-before windfall of €51,438 (over 253 BTC) after making a first deposit of €200. Lucky player has managed to crash the record for the highest solo win in BitStarz online casino, where players can play with Euros and Bitcoins.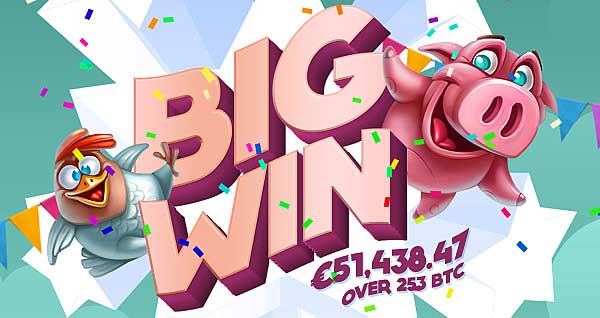 The biggest star of BitStarz to date, Rebecca seems like the very personification of Lady Luck and has also won the official esteemed title of being the highest winning player on the fast-growing online gaming portal.
Rebecca played several slot games on BitStarz with an initial deposit of €200 and over the next two days managed to pile on that deposit, winning a stunning €51,438 after claiming a series of winnings in possibly the most memorable moments in her life.
So how did she feel after this amazing brush with destiny? As it is to be imagined, Rebecca is thrilled with her winnings and summed up her feelings and thoughts in just some short words. She said,
"I can hardly believe it! After my first and single deposit on the casino, I hit this big! I have never won anything, this is amazing!"
Rebecca proved to be quite lucky on a number of slot games, especially the ones from the well-known game provider Microgaming.
For instance at SuperNova she has hit an awesome Mega Win of €16,500. Playboy, Goldilocks and the Wild Bear and Jurassic Park were particularly generous, with €10,100, €9,030 and €5,110 payouts respectively.
Marketing Manager of BitStarz, Sasha Jade is very excited,
"It's great for BitStarz to bring forward such happy moments but even better to be acknowledged for such a juicy payout. We work extremely hard to deliver online entertainment with big payouts and the fastest withdrawals.
Such wins go straight to what we hope to offer our customer, a place where they can "Dream Big, Win Bigger" – which just became reality for a lucky player."
You can see BitStarz review and info about the bonuses here.