Many own Provably Fair games developed by in-house skilled programmer team
You can play with other cryptocurrencies besides Bitcoin
The team has more than 20 years of experience in casino business
Exceptionally good deposit bonus of 100% up to 0.5 BTC!
No time limit in bonus wagering!
FortuneJack Review
FortuneJack is fairly new Bitcoin casino founded in 2014 by casino professionals with over 20 years of experience in the field. The casino is based in Eastern Europe in Georgia. The team seems to be compenent, because they have made several Provably Fair casino games from scratch.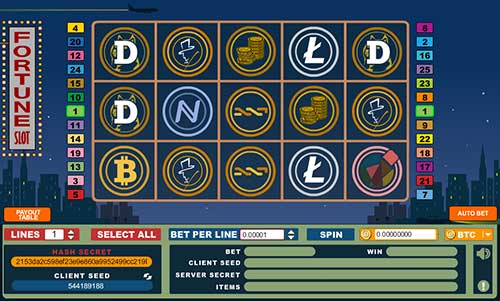 The in-house developed games are not the best looking in the business, but they work pretty fast and all are Provably Fair. That means that the player can verify that the randomness of the game can be checked if wanted.
If you want to play the more familiar Betsoft, Endorphina, SoftSwiss or Novomatic games, this cryptocasino has a big choice of them too. These games can be found under "other games" column.
Bonus
FortuneJack offers 100% bonus to first deposit up to 0.5 BTC. That means you can get up to 0.5 BTC extra playing money when you follow the wagering rules. You will receive the bonus in the same currency that you deposited, for instance Bitcoins. See the wagering rules below. The bonus will be matched bitcoin-for-bitcoin including 9 alt coins.
Your 100% first deposit bonus will be credited to your account on the go, as you wager the bonus while playing. When the bonus is available for you, just claim the bonus Bitcoins by clicking "claim now" button on the landing page. Coins are released in 2,5% chunks of your initial deposit amount. For example 2 BTC deposit is released in 0.05 BTC increments.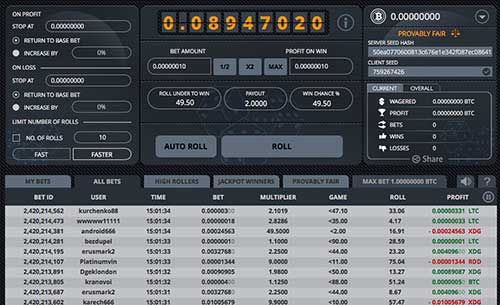 Fortunejack Bonus Codes
No bonus codes are needed.
Wagering Limitations in Bonuses
Welcome bonus of 100% up to 0.5 BTC will be added to your account after reaching the wagering requirements. You must wager at least forty (40) times your bonus to cash out any amount of money.
There is no time limit set for the bonus, wager it as long as you want by playing at FortuneJack.
The bonus will be void if you withdraw the amount, until the bonus requirements are matched. Of course, you can still be able to keep your winnings.
The deposit bonus will be credited only by wagering the currency you deposited first.
The deposit bonus will not be activated if you deposit less than 0.01 BTC (or equivalent in other coins)
Different games count to wagering as followed (stake % for contribution):
Keno (100%)
Fortune Slot (100%)
Video Poker (20%)
Binary Trader (20%)
Endorphina Slots (10%)
Fortune Wheel (10%)
Live Games (5%)
Dice (0%)
This means that for example in Video Poker, 20% of your stake will be counted to the total wagering amount. Any coins wagered in Dice do not count towards the bonus.
Loyalty Program
This bitcoin casino features also a Loyalty Program where your playing is rewarded. Every time you wager 0.001 BTC (or equivalent in other coins), you will earn one Loyalty Point in the casino games Bingo, Double Action Roulette, Sic Bo, Keno, Binary Trader and Video Poker.
These points are then redeemed into real coins after each 100 Loyalty Point. Coins are available instantly and can be withdrawn right away – no complicated terms there! The wagering percentages are the same than in regular bonus, see above.
VIP system
FortuneJack has a 4-level VIP Club Membership system. How do you get in?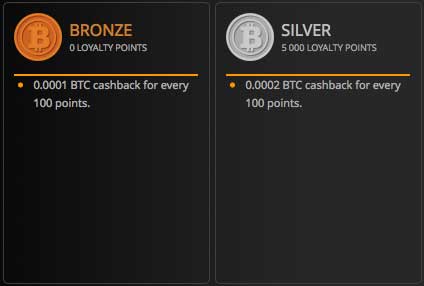 First you start on Bronze level when you deposit and start playing. When you play more, you start reaching up to the next levels. Here is something you can expect according to FortuneJack.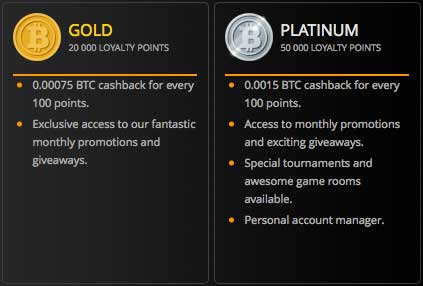 Note! Loyalty points are credited to the account right after the 100% deposit bonus is claimed.
Weekly Promotions
There is also different weekly promotions that vary from week to week. Unlucky Jack rewards the top 3 unlucky players of each week by redeeming 20% of their net loss back to them. These unlucky few are identified by the size of the deposit sum they lose during that week.
Most active chat user is rewarded, so being social gives you some benefits.
Jack's Favourite reward is given to a player who tries all of FortuneJack's games. If you wager at least 0.001 BTC on every game in our range, you get 50 Loyalty Points.
Also different weekly promotions can be found and they change from time to time. In this promotion and bonus section FortuneJack seems to be pretty active and has some refreshing new ideas.

How to get your Deposit Bonus
Create Account
Deposit Bitcoins or other cryptocurrencies
Your 100% deposit bonus is automatically added to your account (up to 0.5 BTC)
If you deposit Bitcoins, your bonus is also in Bitcoins and so on.
Deposits and Withdrawals
The deposits and withdrawals support these 11 cryptocurrencies: Bitcoin, Litecoin, Dogecoin, Clam, Novacoin,  Dash, Peercoin, Namecoin, Reddcoin, Monero and FJC which is used for free plays. You can use any of these cryptocurrencies or play with many of them as you like.

Deposits and withdrawals can be done also with the same cryptocurrencies. Money transfers are almost instant and therefore very fast. Below is a piece of the deposit screen.
As you can see, the deposit addresses are easily copied there to your Bitcoin wallet software. If you use a mobile device with the Bitcoin transfers, the QR-code can be clicked and it pops up bigger. This is really easy and withdrawing winnings is as easy too!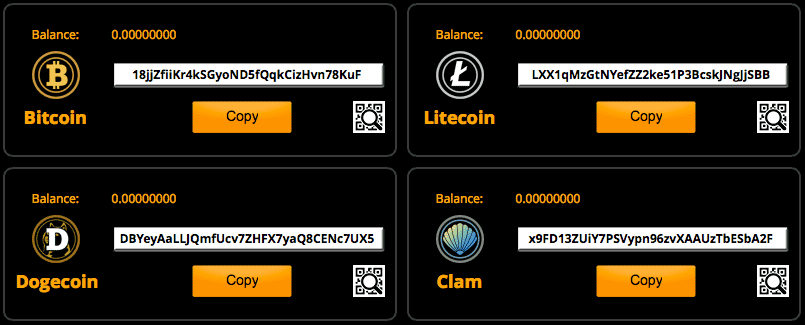 Casino Games
The game lobby works really fast compared to some other BTC casinos. The company has some of the best Eastern Europe coders in house, and you can definately see that in the speed.
The Provably Fair game selection is big. They look a bit dated as you can see from the picture below. Anyhow theses games work really fast because the graphics are not too complicated. These games are developed in house, so the return rates can be bigger because FortuneJack doesn't have to pay licensing costs outside the company.
This picture is from Provably Fair game Fortune Wheel which is a somewhat of a classic.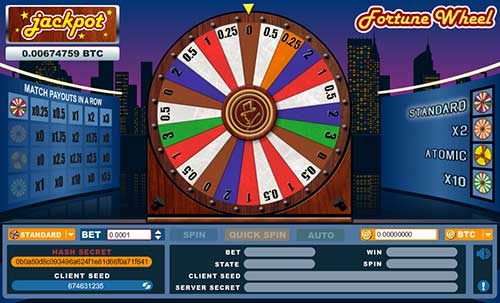 There is also a vast selection of familiar Bitcoin Casino games from software providers like Endorphina, Betsoft, Softswiss, Novomatic and few other software companies. Below is a screenshot of some of these games.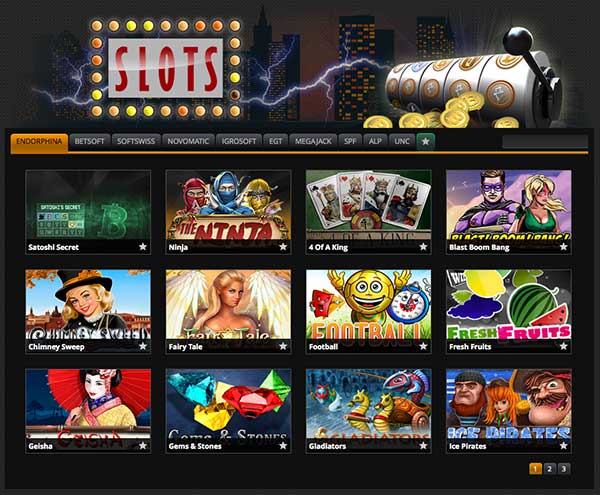 Binary Trader
Recently FortuneJack launched the Binary Trader game developed using fast and modern HTML5 technology.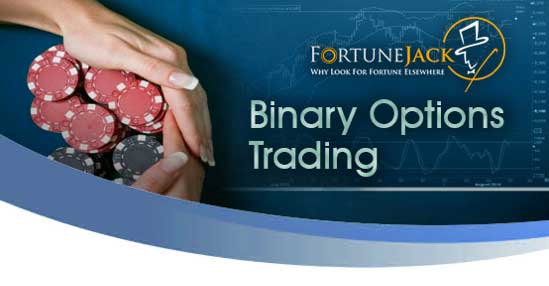 Fixed Odds Financial Betting, so called Binary Options Trading is an exciting way to bet on movements of the world's biggest financial markets. A variety of bet types allow you to bet on popular Indices including the FTSE and Wall Street, and some of the most traded Currency Pairs (FX) such as the EURO vs US Dollar. Binary Trader is some kind of a mixture of betting, casino games and financial skills.
Review Conclusion
In a nutshell, FortuneJack bitcoin casino is a refreshingly fast and fluent Bitcoin and cryptocasino. They have a solid background for over 20 years in the casino business of Eastern Europe. The bonuses are fairly good, VIP system and weekly promotions add a lot excitement to playing there. Deposits and withdrawals are fast and can be done in very wide selection of cryptocurrencies.
We recommend FortuneJack by no hesitation and maybe you should check if you agree?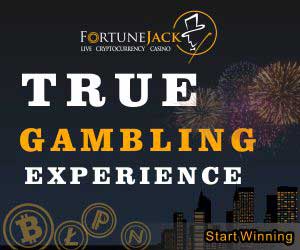 User Rating:
How do you like this Fortunejack casino? You can also write your comments in the end of this review! Your ratings and comments are important to us and the readers. Thank you 🙂
Get Your FortuneJack Deposit Bonus Now!
Almost instant deposits and withdrawal and Bitcoin anonymity.
Great selection of in house Provably Fair Bitcoin Games, Live games and hundreds of other games
Bonuses of 100% up to 0.5 BTC!
No time limit in bonus wagering!
Get Your 0.5 BTC Bonus Now and Start Playing!
User Rating:
How do you like this casino? You can also write your comments in the end of this review. Thank you 🙂
Review Contents:
REVIEW
BONUS
BONUS CODE
CASINO GAMES
CONCLUSION
Casino Summary:
First Deposit Bonus: 100% up to 0.5 BTC (or other cryptocurrency)
Reload Bonuses: Occasionally, you will get email about reload bonuses
Bonus Wagering:
40 (forty) times. See details in the wagering-section on this page
Bonus Expires:
No time limit
Casino Games:
Hundreds of different games
Casino Game Types:
Slots
Video poker
Fortune Wheel
Blackjack
Binary Trader
Bingo
Keno
Dice
Live Roulette, Sicbo, Baccarat, Blackjack etc.
Texas Poker
Binary Trader
Casino Software:
In house custom provably fair software, Endorphina, Betsoft, Softswiss, Novomatic, Igrosoft, EGT, Megajack, SPF, ALP, UNC
Currency Choices in Player Account:
Bitcoin, Litecoin, Dogecoin, Clam, Novacoin,  Dash, Peercoin, Namecoin, Reddcoin, Monero and FJC which is used for free plays
Deposits:
Bitcoin, Litecoin, Dogecoin, Clam, Novacoin,  Dash, Peercoin, Namecoin, Reddcoin and Monero
Withdrawals:
Bitcoin, Litecoin, Dogecoin, Clam, Novacoin,  Dash, Peercoin, Namecoin, Reddcoin and Monero
Languages:
English, Russian
US players allowed:
Yes
Mobile Casino:
Yes
Contact Information and Support:
Support by email in support@fortunejack.com or by website form
Casino License:
Not yet