Check the most popular Bitcoin Dice games, Sites and Bonuses and start playing with BTC in minutes!Bitcoin Dice games are very popular in Bitcoin or other cryptocurrency casinos. There are a lot of different Dice variants and here we will introduce you some of the most popular Dice games.
We recommend you to try Bitcoin Dice in these casinos:
Here we introduce you some of the most popular and different Dice Games.
Different Bitcoin Dice games
Scratch Dice
BitcoinPenguin offers a very cool looking Scratch Dice. The game is made by a quality casino software maker SoftSwiss. All the SoftSwiss games are provably fair which is a nice add-on.
In scratch dice you have to scratch three dice. If you get three same numbers, you win! The paytable is 10-times win for dice row of 1-1-1 and 40-times pay for the row 6-6-6. Between the payout varies from 15-times to 30-times.
If you get a Street (any combination of 1-2-3, 2-3-4, 3-4-5, 4-5-6) you will get a special gold ticket. With the gold ticket, your payout from 1-1-1 goes up to 30-times and from 6-6-6 to a huge 180-times payout.
If you want something special and new, go and try Scratch Dice out in BitcoinPenguin!
Old school Bitcoin Dice
Crypto-Games.net features a Provably Fair old school looking Blackjack game which looks like this. There is not any deposit bonuses, but check out the Faucet Bonus from the CryptoGames review. The game runs fast and works fluently also in older computers or slower internet connections.
Basically you just have to choose your Bet Size and the Payout. If you want bigger winnings, the win chance is lower. If you want to make sure you get wins often, just choose to get a smaller payout.
Dice fits for everyone because of these options. It's simple and easy. And you can see that from it's popularity! You can see the "All bets" -screen which shows every single bet made. And there is a lot of bets flowing!
Go to see the Dice in Crypto-Games.net and start playing!
Live Dice with Bitcoins
These Bitcoin Casinos offer a unique Online Live Casino with Bitcoin Live Dice game. A live dealer will throw 5 dice and you can bet on different options like at least two pair or three of a kind. This is a screenshot of BitCasino.io and its Live BTC Dice.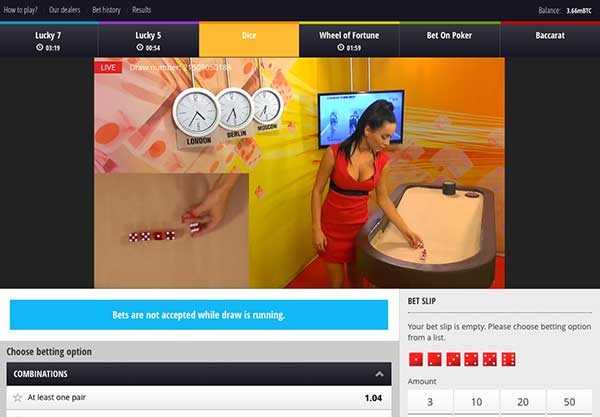 As you can see, there is some eye-candy also to be seen. If you want to try this exciting form of Bitcoin Dice, go and try Live Bitcoin Dice out in BitCasino.io!
Playing in Satoshi Dice
Satoshi Dice is a very unique and thrilling Dice game. It however does not use a regular 6-sided dice, but a more special random dice system. You have to pick a number between 0 and 65335. If the Dice is under the number you picked, you win! If you pick a lower number the payout is bigger, because of the lower probabilities. In its simplicity, Satoshi Dice is a really addictive and fun Dice game!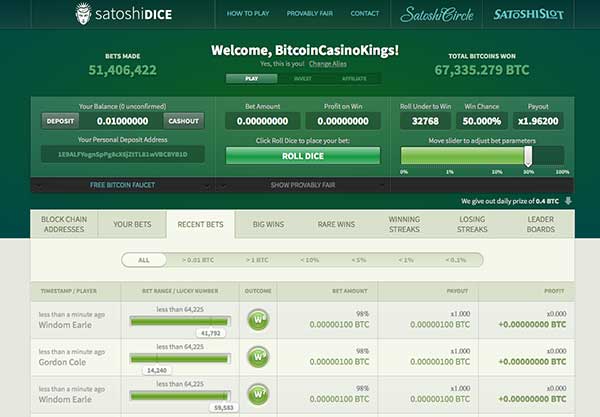 It works like this:
Set the Bet Amount in Bitcoins
Adjust the Bet Slider to pick a number between 0 and 65335. Do you want to win big or win smaller but more often? It's up to you!
Roll the Dice and a number between 0 and 65535 is rolled.
If the rolled Dice was under the limit you chose, you win!
Satoshi Dice is very easy to play. Start playing in under one minute like this:
No account creation or password is needed. Your account is hidden in the link in your Browser. Just save the link in your bookmarks and you always find your account. Note! Do not share the link to anyone, because anyone could play in your account after that!
Deposit Bitcoins to your Personal Deposit Address
Start playing
Withdraw Bitcoins easily by clicking Cashout
Easy and fun!
Start Playing in Satoshi Dice right now!
Free Dice with BTC
In many Bitcoin Casinos you can play for free using play money. For example Bitcasino.io offers the possibility to play for free. That is a good way of practising your BTC Dice Strategy to get better winnings when playing with real Bitcoins.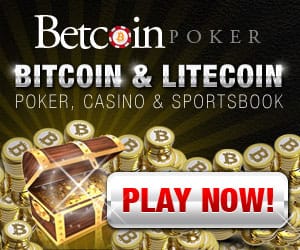 Strategy
There are many Bitcoin Dice Strategies to follow and improve your winnings. Of course no system can give you a 100% winning rate, but these systems make you able to control and wager your money more wisely.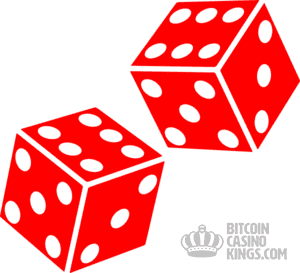 Martingale System is maybe the most popular money management system in casino games and also qualifies as a BTC Dice Strategy. It works like this: you double the amount you wager every time you lose. With this strategy, by the time you win you get all your lost wagers back from your previous rolls. Of course this Martingale System need a decent bankroll in your Bitcoin Dice account.
Reverse Martingale System says that you double your bets every time you win. If you lose, you will decrease your wagers.

In system called One Half Up you will not increase your wagers if you have not won two wagers in a row. You increase your bets by 50% of your original bet.
Whatever system you choose, or if you decide to play by your instincts, Bitcoin Dice is a simple, fast and very fun game to enjoy now and then.