Superfast and simple online Casino
Supports 9 cryptocurrencies like Bitcoin, Dash, Dogecoin, Ethereum, Gridcoin, Litecoin, Peercoin, Stratis and Monero
US Players Welcome
7 Provably fair casino games: Dice, Slot, Blackjack, Roulette, Video Poker, Plinko and Lotto (lottery)
Very small house margin, which increases your winnings
Big Jackpots in Video Poker and Lotto
Crypto-Games.net Review
Crypto-Games.net is an online Bitcoin and Cryptocurrency casino which offers seven games. Yes, you read right, only seven! As you can probably now guess, Crypto-Games doesn't compete against the bigger and flashier Bitcoin casinos with hundreds of games.
The casino rather relies on its strengths: fast money transfers and simple old school style games. All the games are provably fair. This means you can always check that the games are 100% random and fair.
Also Crypto-Games supports a lot of Altcoins including Bitcoin, Dash, Dogecoin, Ethereum, Gridcoin, Litecoin, Peercoin, Stratis and Monero. This is something that not many cryptocurrency casinos offer. You can also try the games with free play money.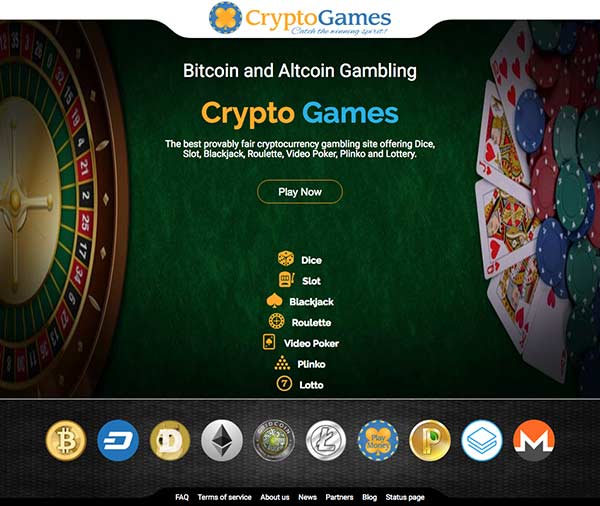 Simple games means that you can start playing fast and you don't have to wait for the heavy graphics to load. And the game selection is a lot easier with seven games. No more problems deciding what game to play! You could definately say "less is more" when talking about this crypto casino.
The history and people behind the casino
This casino opened in August 2014 with the intention to offer multiple cryptocurrencies from the beginning. First game was the Slot and soon Dice game was added. The games have been improved many times after the launch. In September 2015 the Blackjack was added and in October 2015 – old favourite Lottery (or Lotto in some countries).
The team behind this casino is made of cryptocurrencies fans. Well you can really see that, because this casino offers more currencies than games (which isn't a bad thing at all). These people found Bitcoin back in 2011 when most people have never heard the word cryptocurrency yet.

Crypto-Games.net team work in IT industries. Most people are programmers and system engineers. This gives a solid background to the code behind the casino games. This programming background is shown for example here: provably fairness is well shown on each game and it is easy to check.
Cryptogames is a kind of a nerdy casino (in a positive way): the most important thing is that the casino works fast and is simple and fair. Graphical content and background stories are somewhat missing.  If the casinos outlook isn't so important to you, this shouldn't be a problem. If you want flashy graphics, animations and stories, you should maybe pick an another casino.
In this casino, you get what you see and there is nothing to hide under the surface. This is a refreshingly simple casino after many glittery and slow traditional online casinos.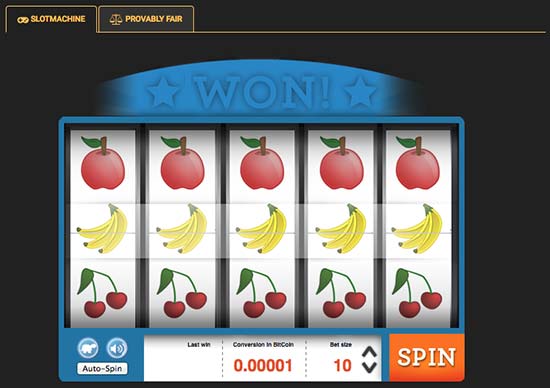 Bonus
Crypto-games.net doesn't offer any deposit bonuses at the moment, but there is a cool Faucet Bonus. You can check the Faucet bonus from the Rewards-menu.
Basically the Faucet bonus saves you, if your coin balance is empty. You can request for small amount of coins every 3 minutes and the bonus amount and quantity depends on your Faucet Level. You can check your level from the Rewards -> Faucet Level-menu.
Your Faucet Level increases for example with these factors: Wagered coins, Chat messages, Loyalty in days, Invested coins (Investment in house bankroll) and Referral commission (How much you earn from your referred friends). Check the full details from Faucet Level-menu.
Special Promotions and Bonuses
If you follow their Twitter account, some special promotions is introduced now and then. One example would be free tickets to Christmas Lottery for example. The tickets were available through the somewhat active chat in the casino.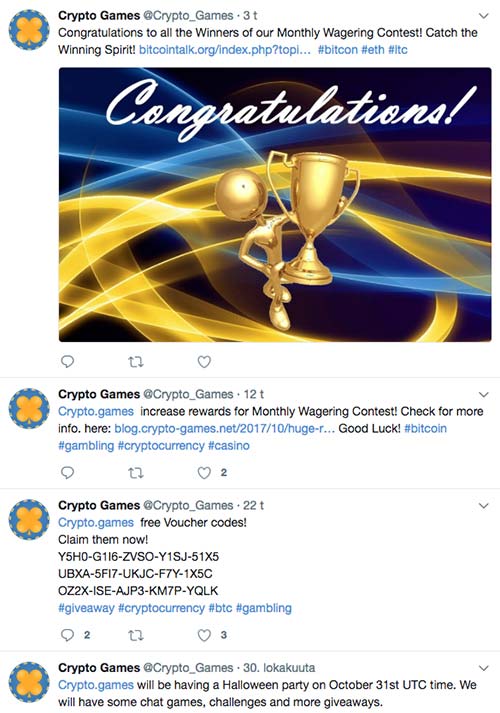 With the bonuses Crypto-Games.net follows the same simple agenda: no gimmicks, just gaming. This can be shown on the fairly small house margin: in the Dice the house margin is only 0,8% and 99,2% of the bets will be paid to the winners.
Full list of Crypto-Games house edges (the rest goes to players):
Dice has a house edge of 0.8%
Slot has a house edge of 1.97%
Blackjack has a house edge of 1.253%
Lottery doesn't have a house edge, but gives away 1% more than paid (negative house edge of 1%, or EV+)
Roulette has a house edge of 2.7%
Video Poker – Jacks or Better has a house edge of 2.11%
Video Poker – Tens or Better has a house edge of 2.08%
Video Poker – Bonus poker has a house edge of 2.09%
Plinko – Green ball has a house edge of 1.63%
Plinko – Red ball has a house edge of 1.84%
Plinko – Blue ball has a house edge of 1.52%
Plinko – Yellow ball has a house edge of 1.91%
These are very good numbers: in some countries the official Lottery can have as low as 40-50% return rate (The Finnish lottery gives back only 41% of the money back for example). Compared to that, for example 98,5% return percentage can be compared to a really good rate.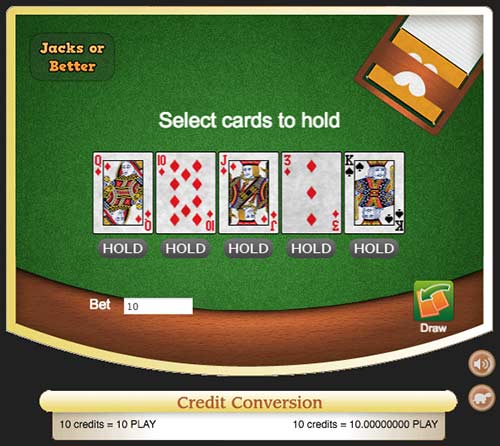 The good return percentage is kind of a permanent bonus. No casino can offer over 100% return rate permanently, because they would run out of money. Anything over 90% – 95% return rate can be considered excellent for the player.
How to start playing:
Click the link button below. Your account is created immediatedly.
There is no registration required. Every user gets a unique ID, which is captured in the browser cookies. The ID is stored in the cookies for 2 months.
Click "Your Account" -menu -> Settings.
There you can see your personal browser address. Save it and don't share it with anyone! The address looks like this: https://www.crypto-games.net/?longid=RANDOM_NUMBERS
Don't lose or share your personal ID! If you want to further ensure your account is protected, set an email and password under "Your Account" in the "Security" tab.
Deposit coins and start playing! Easy!
Bonus Codes
No bonus codes are needed.
Freespins
Crypto-Games doesn't offer free spins, but there is a cool Faucet Bonus. See further details above from the Bonus-section.
Wagering Limitations
Since there is no deposit bonuses, you don't have to worry about wagering limitations. Just check the details from the Rewards-menu for the Faucet Bonus. That way you can try to boost your bankroll if you lose all your coins.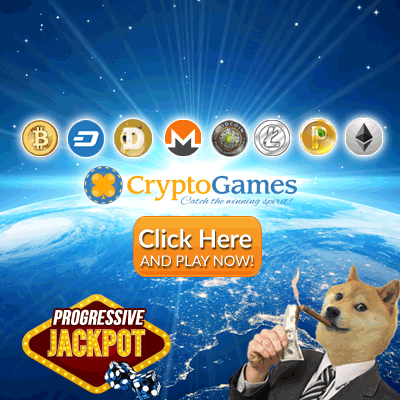 Deposits and Withdrawals
Deposits work lightning fast. For deposits the casino doesn't require any confirmations. You can start playing right away.
For withdrawing you need 2 confirmations on all of your deposits. This is a great thing, because Crypto Games really takes the most out of the speed of cryptocurrencies. We like this very much.
Casino Games
Crypto-Games.net offers seven casino games at the moment: Dice, Slot, Blackjack, Roulette, Video Poker, Plinko and Lotto (lottery). Dice is a traditional Bitcoin or cryptocurrency Dice.
Basically you just have to choose your Bet Size and the Payout. If you want bigger winnings, the win chance is lower. If you want to make sure you get wins often, just choose to get a smaller payout.
Dice fits for everyone because of these options. It's simple and easy. And you can see that from it's popularity! You can see the "All bets" -screen which shows every single bet made. And there is a lot of bets flowing!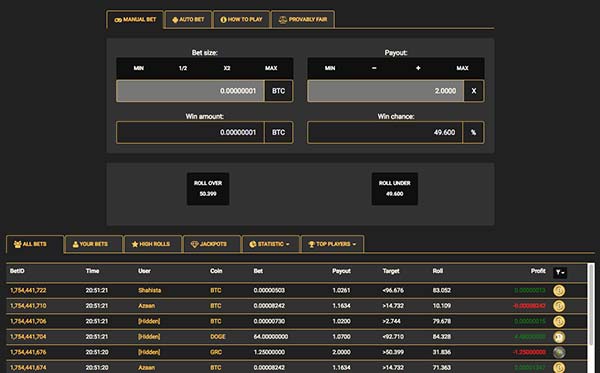 Second game is the traditional Bitcoin Slot. And of course you can play with any of the cryptocurrencies supported. Just spin the reel and put your thumbs up for the win!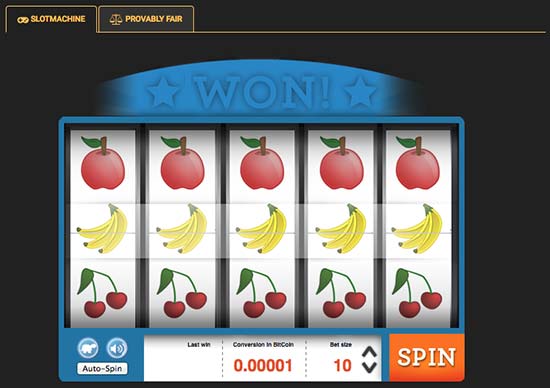 The Blackjack doesn't need much introductions. The graphics look simple but they are clear and informative. Open a beer (or whatever you like) and start playing. What else could you need!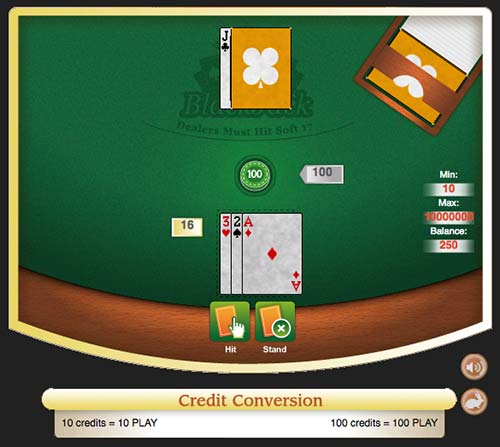 The last game is somewhat special in the Bitcoin Casino world. Welcome to the Lottery (or Lotto).
You can buy lottery tickets and hope that one of your ticket numbers will be picked. The draw takes place twice per week, on Wednesday and Saturday.
How to play?
Click on tab "Buy ticket" and enter number of tickets you want to buy. Each ticket costs 0.0001 BTC (10,000 satoshi). You can play also with other cryptocurrencies.
The winner will be drawn each week on Wednesday and Saturday using random numbers. Three winning tickets will be selected and winners will get the following prizes:
1st place: 80% of total pot
2nd place: 15% of total pot
3rd place: 6% of total pot
Payout:
100% of the money raised with ticket sales will be paid out to the three winners and on top of this the site will give out another 1%! Players with winning tickets will win an extra 1% of the prize pool.
You can buy also several tickets. The more you buy, the more winning chances you have!
Conclusion
Crypto-Games.net is a fast and simple cryptocasino that has four unique casino games. All the games are Provably Fair. Deposits and withdrawals are lightning fast. Also the support seems to be friendly and answers fast if you have anything to ask.
If you want fast, old-school styled action, this casino could be for you!

Crypto Games is a cool, old-school fashioned cryptocasino!
Superfast and simple online Casino
Supports 9 cryptocurrencies like Bitcoin, Dash, Dogecoin, Ethereum, Gridcoin, Litecoin, Peercoin, Stratis and Monero
US Players Welcome
7 Provably fair casino games: Dice, Slot, Blackjack, Roulette, Video Poker, Plinko and Lotto (lottery)
Very small house margin, which increases your winnings
Big Jackpots in Video Poker and Lotto
Review Contents:
REVIEW
BONUS
BONUS CODE
FREESPINS
CASINO GAMES
CONCLUSION
Casino Summary:
Bonus:
Faucet Bonus (see the bonus-section)
Deposit Bonus:
No
Reload Bonus:
No
Bonus Wagering:
Not needed
Bonus Expires:
The Faucet Bonus doesn't expire
Casino Games:
Seven
Casino Game Types:
Dice
Slot
Blackjack
Roulette
Video Poker
Plinko
Lotto (lottery)
Casino Software:
In-house developed games
Currency Choices in Player Account:
Bitcoin, Dash, Dogecoin, Ethereum, Gridcoin, Litecoin, Peercoin, Stratis and Monero
Deposits:
Bitcoin, Dash, Dogecoin, Ethereum, Gridcoin, Litecoin, Peercoin, Stratis and Monero
Withdrawals:
Bitcoin, Dash, Dogecoin, Ethereum, Gridcoin, Litecoin, Peercoin, Stratis and Monero
Languages:
English
US players allowed:
Yes
Mobile Casino:
Works in mobile browsers, but not mobile optimized
Contact Information and Support:
Email support: support@crypto-games.net
Casino License:
No